How Many Users Does Clubhouse Have? 40+ Clubhouse Stats
by Brian Dean · Updated May. 10, 2021
Clubhouse has quickly become one of the top social media networks on the planet.
The audio-based network started as a niche app for Silicon Valley insiders. But has quickly morphed into a mainstream platform.
So, how big is Clubhouse? And how did it get to this point?
On this page you'll find all the key stats you need to know about Clubhouse in 2022.
Clubhouse Usage Statistics (Top Picks)
Clubhouse has 10 million weekly active users, up from 600,000 in December 2020.
Clubhouse is currently valued at $1 billion (up from $100 million in May 2020)
Clubhouse has raised over $10 million to date.
Over 180 organizations and venture capitalists have invested in Clubhouse to date.
With its $1 billion valuation, Clubhouse is now a Unicorn startup, joining the ranks of Uber and AirBnb.
Clubhouse is currently ranked #16 in the App Store under the "Social Networking" category.
Clubhouse officially launched in April 2020.
How many people use Clubhouse?
Clubhouse currently has 10 million users, according to a town hall meeting hosted by CEO Paul Davidson.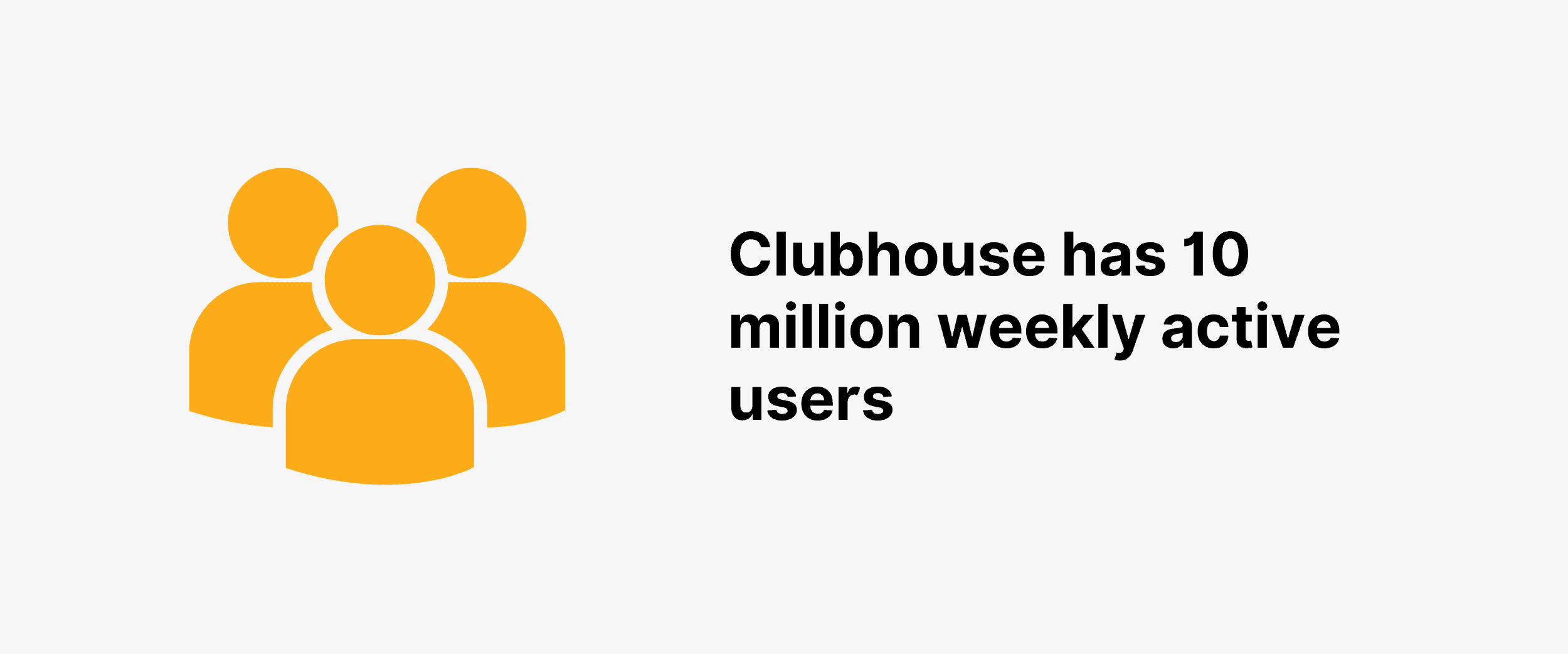 That's impressive considering that the platform had 2 million users in January 2021. And only 1,500 in May 2020.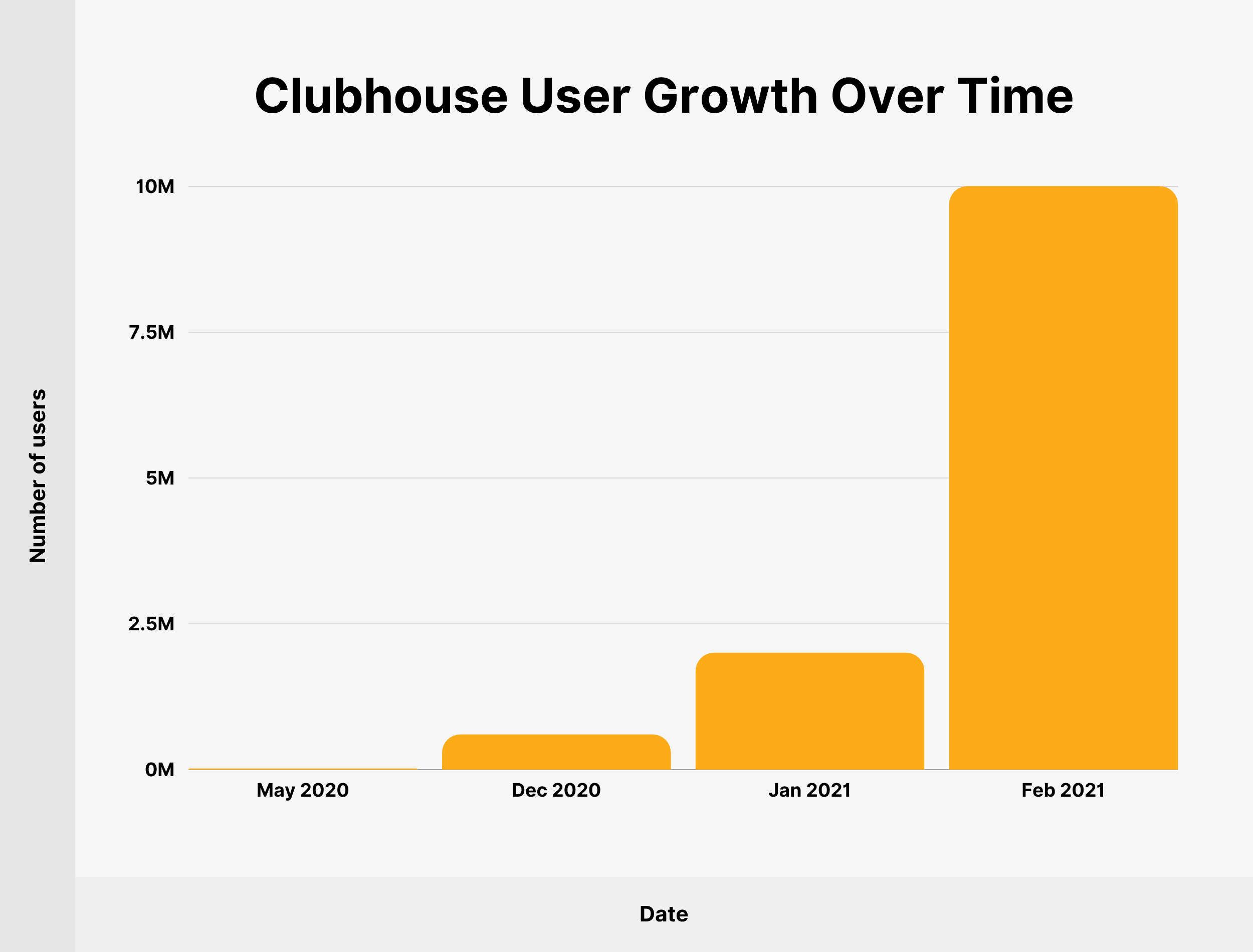 In other words, Clubhouse increased its user base by 5x in January.
Here's a full breakdown of Clubhouse user growth over time.
| Users | Date |
| --- | --- |
| 1,500 | May 2020 |
| 600,000 | December 2020 |
| 2 million | January 2021 |
| 10 million | February 2021 |
Sources: TechCrunch, New York Times, Mashable, CNBC, Medium.
How popular is Clubhouse?
Besides user growth, we also have other metrics that indicate how popular Clubhouse is.
Specifically, app downloads.
Clubhouse is currently the 16th most popular app in the "Social Media Network" category of the App Store, behind Facebook, Messenger, Discord, WhatsApp, and other more established social networks.
According to Fortune, Clubhouse has been downloaded 2.3 million times in January 2021 alone.
And data from Appfigures data shows that 30% of all Clubhouse downloads to date have happened since January 28th.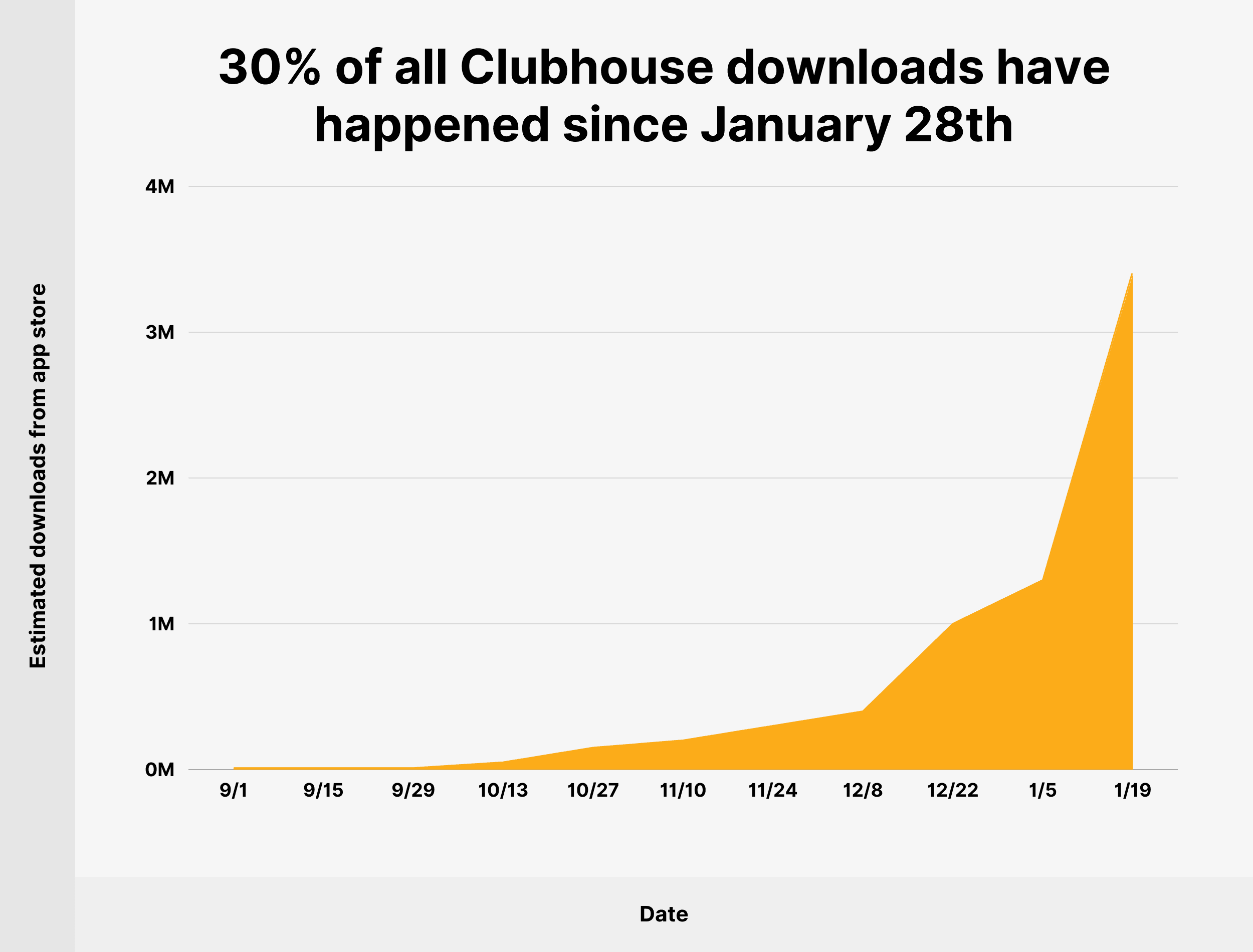 Source: Fortune, Appfigures.
Search Interest in Clubhouse
According to data from Exploding Topics, searches for "clubhouse app" have increased by 2x over the last 6 months.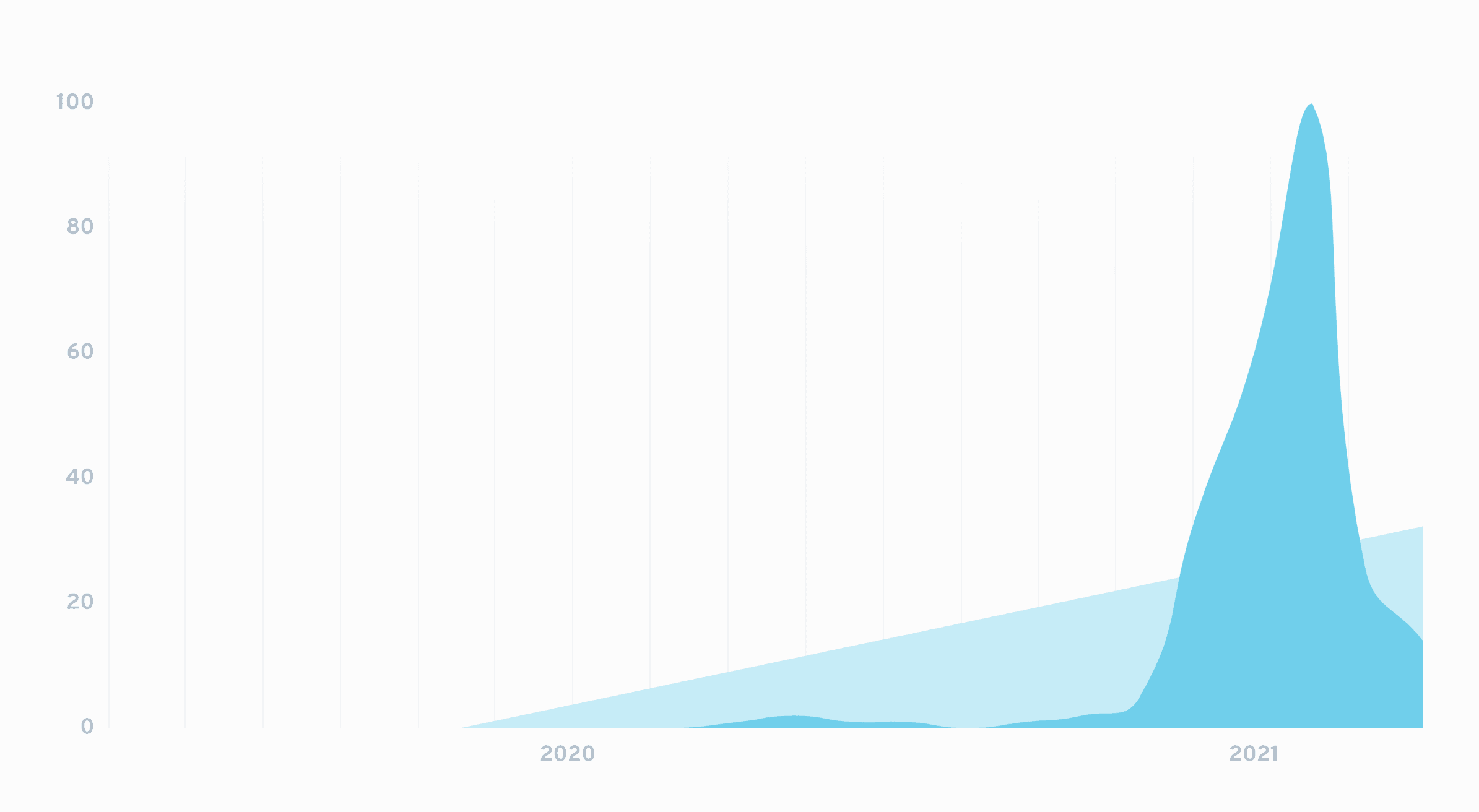 Source: Exploding Topics.

Clubhouse outside of the US
Clubhouse is currently available in 154 countries (the iOS App Store operates in 175 countries).
And the app is starting to gain traction outside of North America.
In fact, Clubhouse is currently the #1 most-downloaded app in Germany, Japan, Slovakia, and Turkey.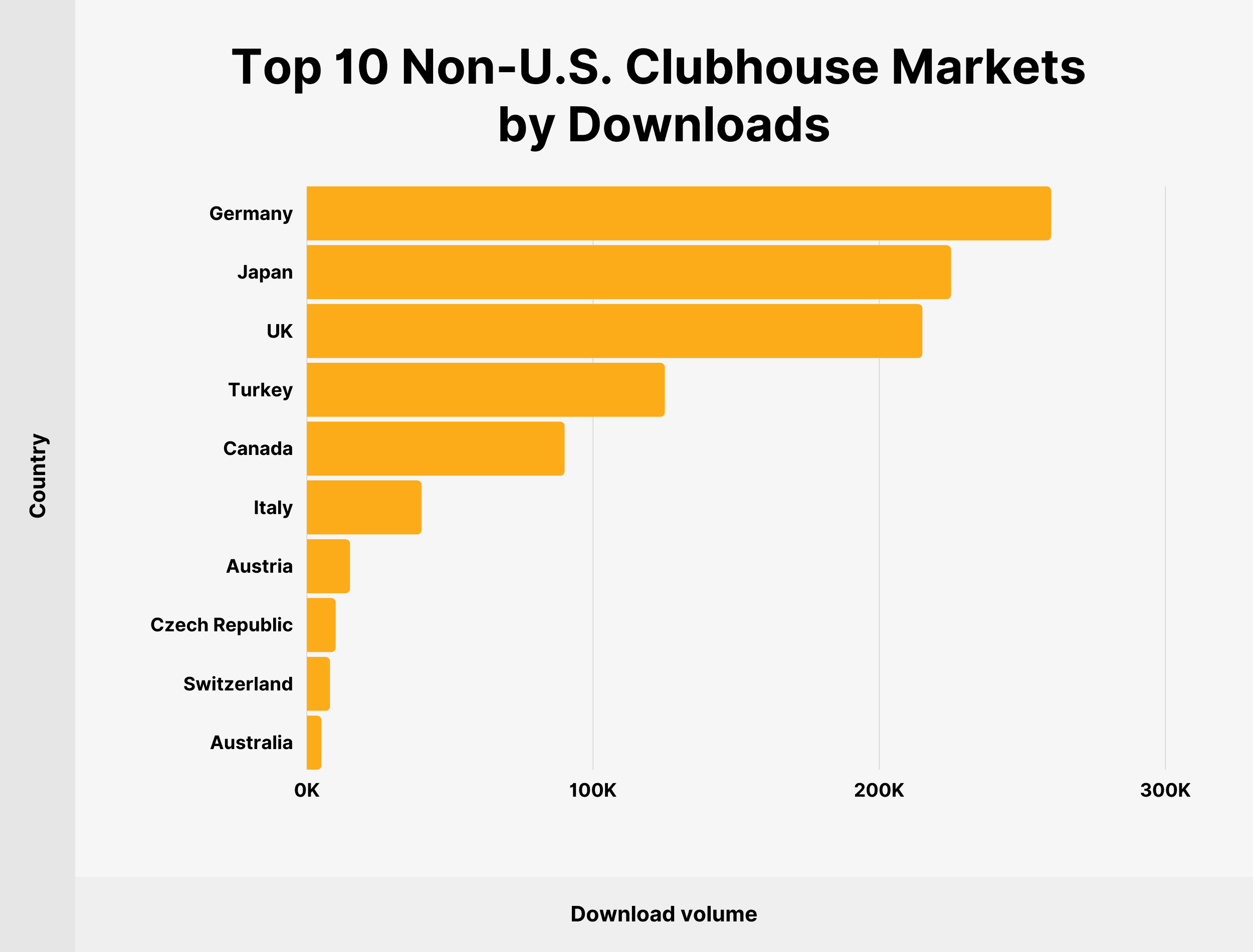 Clubhouse got over 440,000 downloads in Japan in early February 2021 alone.
And Clubhouse is growing so quickly in China that invite codes are being sold for 188 yuan ($29). In fact, Clubhouse has been downloaded from China's App Store 160,000 times. However, the app doesn't appear to be available in China as of mid-February 2021.
Sources: Google Berlin, Quartz, Japan Times, Nikkei, NY Times.
Most Popular Clubhouse Users
Clubhouse has added a number of notable users over the last few months.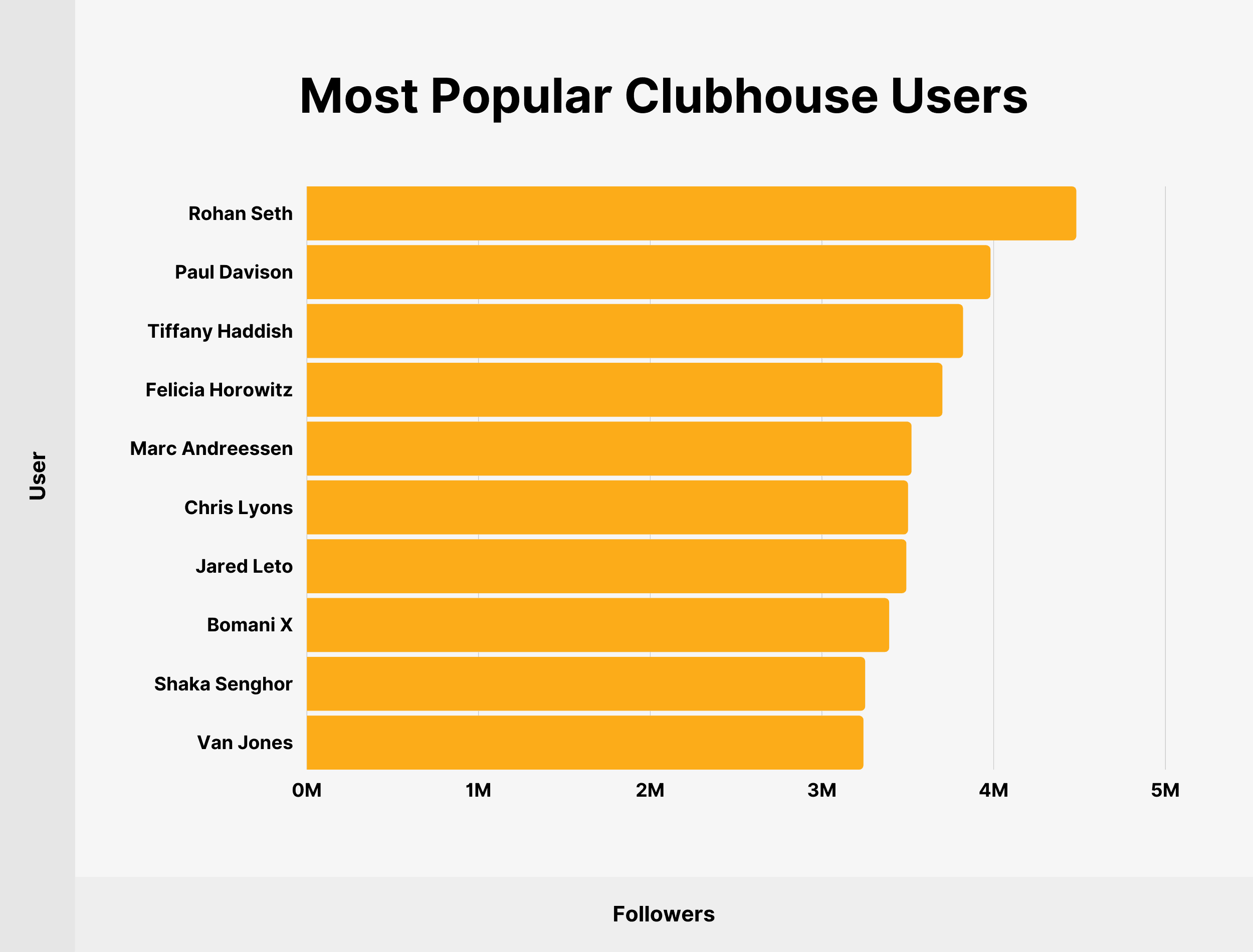 Here's an expanded list with figures of the most-followed accounts on Clubhouse right now.
| User | Followers |
| --- | --- |
| Rohan Seth | 4.48M |
| Paul Davison | 3.98M |
| Tiffany Haddish | 3.82M |
| Felicia Horowitz | 3.70M |
| Marc Andreessen | 3.52M |
| Chris Lyons | 3.50M |
| Jared Leto | 3.49M |
| Bomani X | 3.39M |
| Shaka Senghor | 3.25M |
| Van Jones | 3.24M |
| Ben Horowitz | 3.20M |
| Andrew Chen | 3.12M |
| Anu | 3.11M |
| Josh Constine | 3.10M |
| Gayle | 3.04M |
| Nait Jones | 2.93M |
| Scooter | 2.92M |
| Jeff Carvalho | 2.83M |
| Meek Mill | 2.82M |
| FADIA | 2.77M |
How much is Clubhouse worth?
In January 2021, Clubhouse raised a Series B round from Andreessen Horowitz and others for an undisclosed amount.
That funding round valued Clubhouse's parent company, Alpha Exploration Co., at over $1 billion. To put that in perspective, Clubhouse's previous valuation, in May 2020, was $100 million.
| Date | Valuation |
| --- | --- |
| May 2020 | $100M |
| January 2021 | $1B |
Sources: The Information, Fortune.
How does Clubhouse make money?
Clubhouse is currently pre-revenue. Which means the platform currently isn't monetized. However, Clubhouse is currently rolling out a creator-focused monetization feature called "Payments".
This model allows users to directly support creators on Clubhouse that they follow.
Source: Clubhouse Blog Post.
Does Clubhouse have an Android app?
Yes. Clubhouse released a beta Android version of their app to the public on May 9th, 2021.
Source: Clubhouse's Twitter Account
Can anyone join Clubhouse?
No. Clubhouse is in private beta and currently invite-only. That said, you can currently sign up to reserve your username/handle. But to actually use the app, you'll need an invitation from a current user.
Source: Mashable.
Clubhouse app ratings
The Clubhouse app has over 480,000 ratings in the iOS app store.
Here's the full distribution by rating:

1 star: 7,232
2 stars: 2,979
3 stars: 10,186
4 stars: 26,609
5 stars: 432,805

Conclusion
That's all for our list of Clubhouse stats for 2022. The audio chat room app is quickly taking off. And, based on its rapid rise in valuations, is clearly becoming a VC darling.
Whether Clubhouse goes mainstream (like Instagram) or sort of fades (like Snapchat) remains to be seen. But right now Clubhouse is overtaking TikTok as "the next big social network". So it will be interesting to see what the future holds for Clubhouse.
Do you have any stats or data that we missed?
Let us know in the comments section below.